[Review] Angel & Faith – Saison 10 #18
- The episode #18 season 10 d'Angel & Faith entitled "Those Who Can't Teach, Teach Gym" and was released today, 2 September our American friends. This episode is the third and final part of the eponymous bow and directs Faith and Fred who investigate a series of mysterious murders in a school, and the return Drusilla ! Vous trouverez, below, the couvertures and review the episode. Bonne lecture 🙂
[section label="Covers" anchor="couvertures"]
Cliquez sur les images pour les voir en taille réelle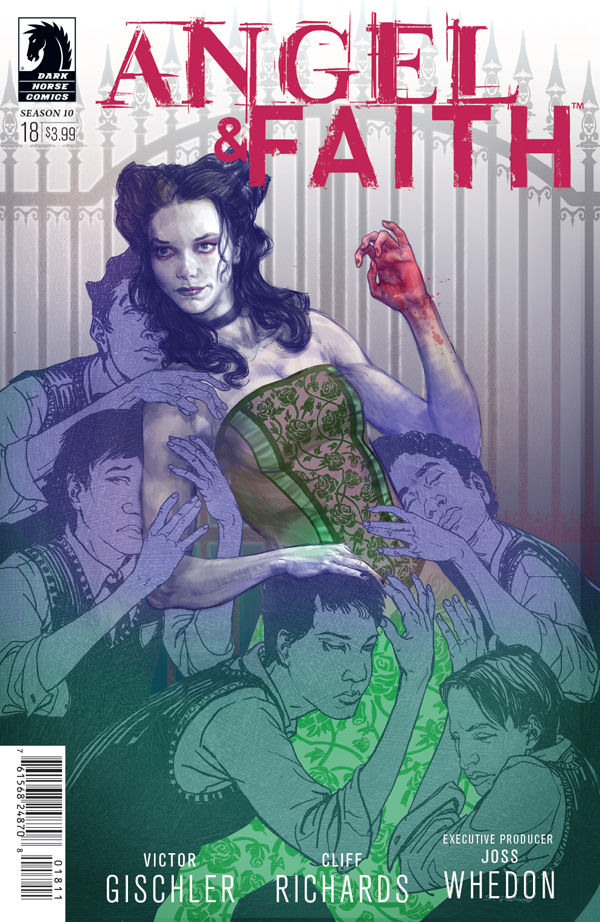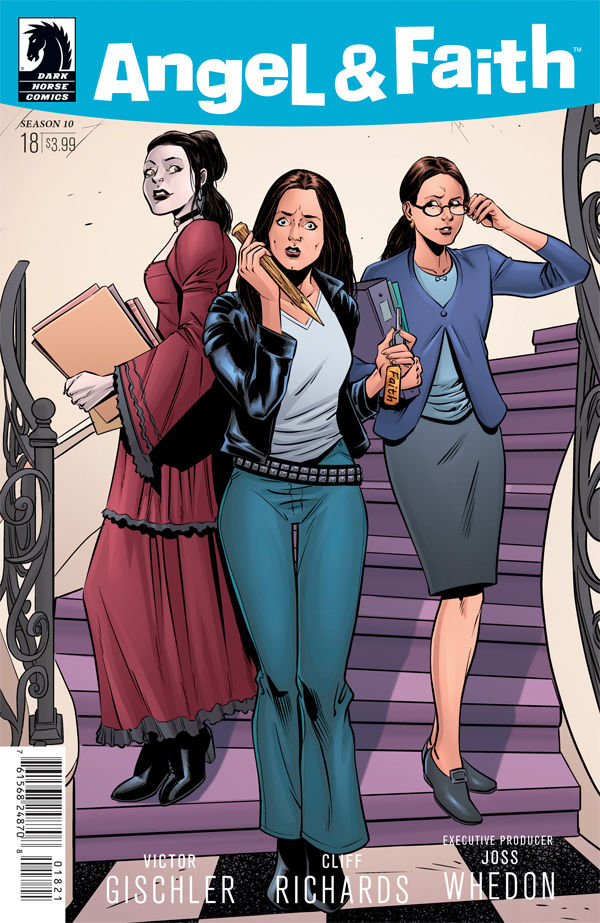 [section label="Preview" anchor="preview"]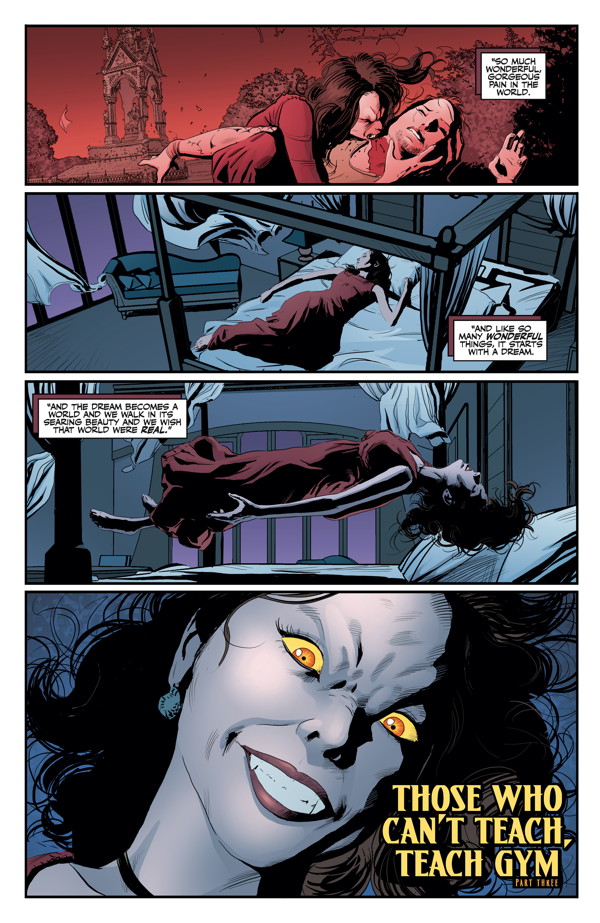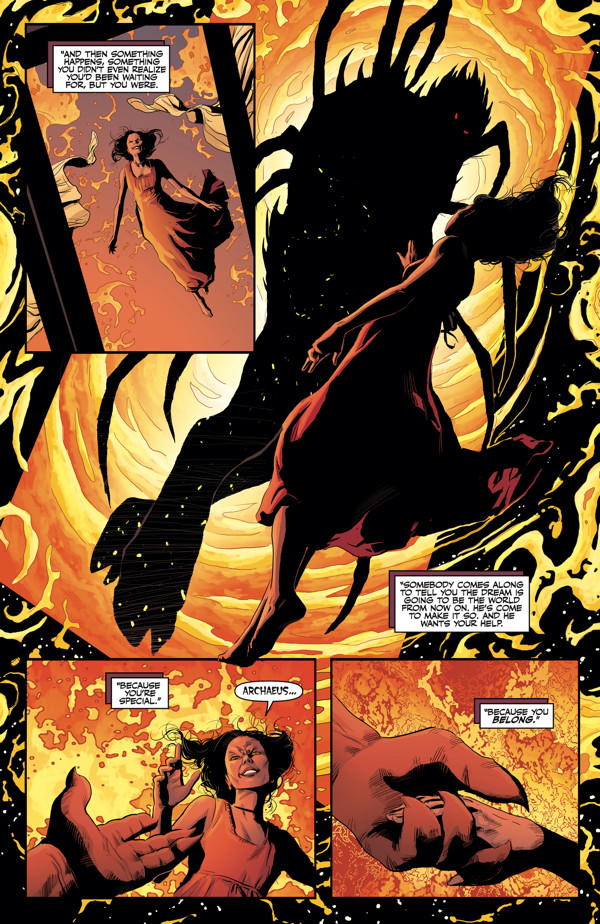 [section label="Review" anchor="review"]
Review
[alert variation="alert-danger" dismiss="dismiss"]Attention aux spoilers ! Vous êtes prévenus[/box]
The 18th episode is titled "Those Who Can't Teach, Teach Gym" and happens to be the third and final part of the arc of the same name. For the reminder of the history, Angel is in San Francisco to help Buffy Faith and Fred while trying to solve a mysterious case in a school where many bodies were found. We learned that the person behind all this was none other than Drusilla. The episode begins with a dream naturally Drusilla where we see that the vampire cooperates with Archaeus, Big Bad long as Buffy and her friends fight in San Francisco.
I should note that I find Drusilla is really well represented in the comics, and Victor Gischler (writer) able to fully capture its personality. We thus find the stamped Drusilla, Children and vicious of the series so that it is about to kill the young student. And when Faith is overwhelmed by vampires, one is almost trying to hope that Drusilla will do the same thing she did to Kendra (Do you remember ? With his nail !), because it's a bit his trademark.
While Faith occupies Drusilla, Fred and Mary saves both trying to escape Shane, the boy was in love with Mary, before that he was a vampire. The fight is reminiscent of the scene of the season 7 Dawn and Amanda potential, in high school. Indeed, Fred did exactly the same thing by taking the flag to a pole. Except this time, Mary helps impale the vampire (then Amanda had not moved) !
What is particularly enjoyable in this episode, Drusilla is that makes a lot of connection with Buffy mentioning Spike, Angel and Darla same. So we really believe in an episode of the TV series, when Spike and Drusilla quoted saying that the "Blood killer aphrodisiac" as he had told him during the Boxer Rebellion in China, one can not help but recall the scene. But Faith is then the perfect answer saying "Spike should know, the noise during the tape said it every night" which inevitably makes us smile and say "In your teeth Dru" !
Finally, Koh Eldre comes and saves the day (We had almost forgotten), but one can only wonder what he is doing there as he had not been present for several episodes and that he was not at all aware of the history of the school / Archaeus / Drusilla Obviously ..., while they kill all vampires, Drusilla fled, bah oui, it was almost certain they would not be killed in the comics not to shock fans.
The last scene shows us had a little complicity between Fred and Faith who is welcome but always makes us regret that there was no "Scooby Gang" side of Angel. And finally, is again followed Mary, while the storyline of the school was eventually resolved and ! We said then that there is something wrong ... The father of Mary, who works at the museum, then unveils a statue that seems more demonic than anything else, and which will surely play a role for the rest of the season. We will probably revisit Mary, especially Drusilla (and therefore Archaeus) seemed very interested in this girl ...
The last word : The last episode of this arc was probably the best, and in my opinion, "Those Who Can't Teach, Teach Gym" was the best arc from the beginning of the season. The storyline was well written, the action was at the rendezvous, Fred team / Faith works great, the atmosphere "Murders in high school" reminded us a little season 1 and 2 Buffy involved in a Teen Movie. Je pense qu'il doit être encore plus appréciable si il est lu du début jusqu'à la fin sans l'attente d'un mois à chaque numéro. Que du positif donc. Dans un mois, Angel est de retour 😉