[Review] Angel & Faith – Saison 10 #21
- The episode #21 season 10 d'Angel & Faith entitled "A Tale of Two Families" and was released on 2 December our American friends. Vous trouverez, below, the couvertures and review the episode. Bonne lecture 🙂
[section label="Covers" anchor="couvertures"]
Cliquez sur les images pour les voir en taille réelle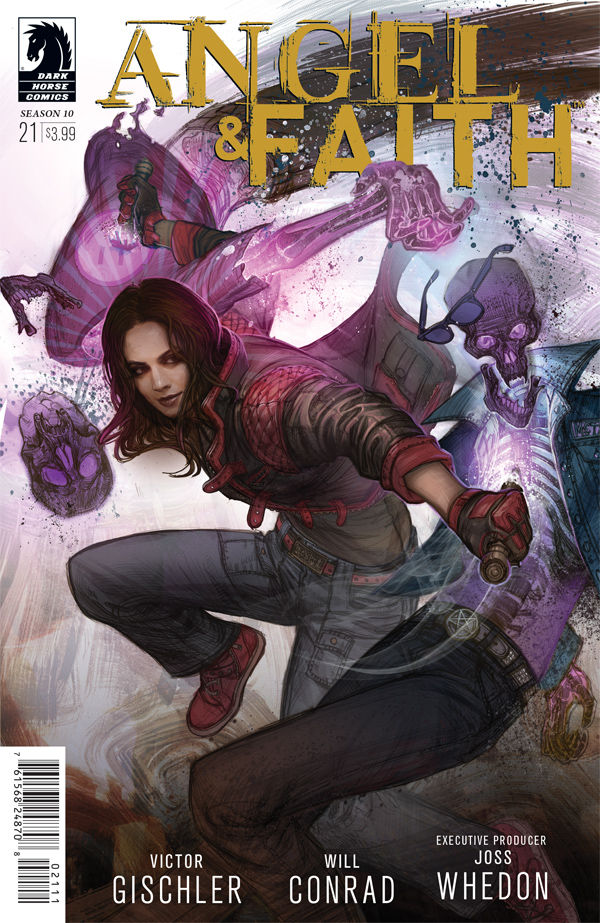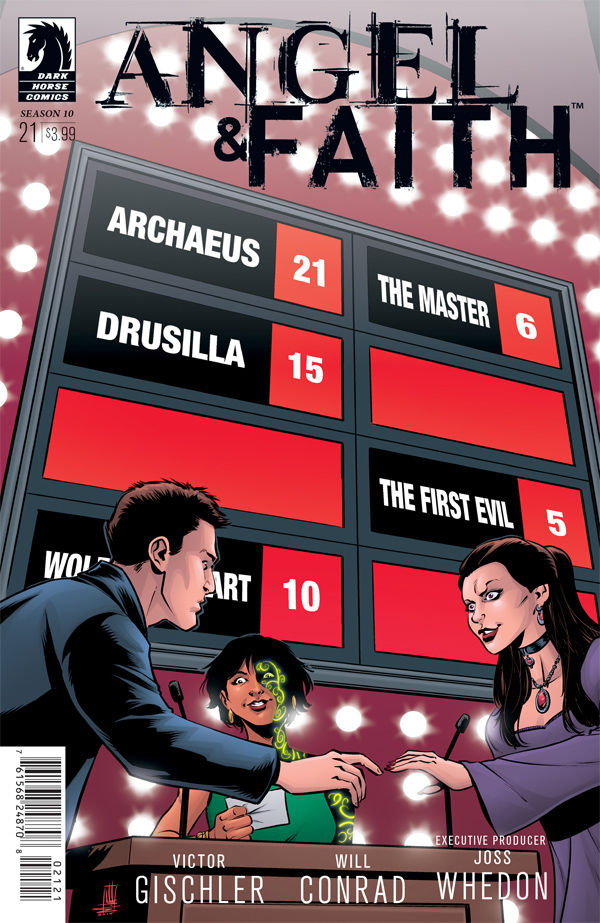 [section label="Preview" anchor="preview"]
[section label="Review" anchor="review"]
Review
[alert variation="alert-danger" dismiss="dismiss"]Attention aux spoilers ! Vous êtes prévenus[/box]
I can not start this review without mentioning the cover. In my opinion, this is the best season for the moment. Scott Fischer has done a great job at representing Faith and deserves congratulations beautiful.
The episode #21 we recall the interest given to the gold statue (representing a samurai) we had seen in a previous episode. We suspected that she had something mystical and that sooner or later, someone would get hold of it. This episode starts with a small night patrol in the streets of Magic Town where Angel and Faith are trying to reduce the population of vampires. They are also trying to cause other people to help them. But of course, this plan is deeper than it seems. So we end up at the apartment of Faith, where the small group meets to discuss their plan to defeat Archaeus.
What I like here is that we finally have a group that is beginning to be welded and everyone in his place. Angel, Faith, Fred, Koh and aunts all want to participate in combat. We really feel that feeling of friendship and cohesion we already have in Buffy. And it is this which I believe to the strength of this arc. But what we also retains this scene is the tension between Angel and Faith. It was only a matter of time with these two there does explain the events of the beginning of the season, including the fact that Faith has left London without a word and came back like a flower. But the time between the two friends was necessary and we finally found the welded more than ever.
Now to Drusilla, which is not obvious to identify since its appearance in the season. A sudden we hate, and a shot was sympathy for her when you see how Archaeus trafficking. One wonders if it will go all the way to please Archaeus and yet feels she sometimes want to rebel against him.
Although this episode is not action-filled as previous, This episode focuses on the character progression. We can see that Faith can show understanding, Angel may feel hurt and Drusilla may fail to meet its mission.
To conclude, episode #21 makes us understand that this is the last arc of the season and that the voltage and the fight with Archaeus approach. It feels the same as when you look at the last episode of Buffy, when the team is preparing for the final battle. We can not wait to see how it all end. As Good as It Gets ...